First: May the Fourth be with you ("and also with you" is how you respond if like me, you grew up Catholic). As you might be able to tell from this shirt, I am religiously devoted to Star Wars. I know a lot about Star Wars, but I'm more of an orthodox fan- I was all about the Expanded Universe, not this reverend-ing stream of Disney sequels.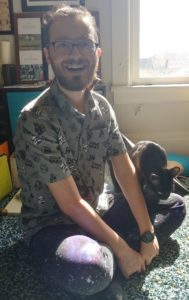 They might be popepular, but it seems like all Disney wants is to turn a prophet - just get big fatwas of cash. They don't care about Allah the history that happened in the books. Just mo-hamme(r)ed out scripts with flashy set piece battles full of Mecca and characters we med-in-a earlier film.
The EU was mostly books and I loved them despite their ridiculousness. Like, in terms of plots, it's not clear the writers always card'in-all the books; they often passover normal options and have someone kidnap Han and Leia's kids.
There were so many convert-sations between the two of them, like "do you noahf ark 'ids are fine" immediately interrupted by formulaic videos from the kids: "Don't worry about mi-mam it's alright, this dude who kidnapped us is a total Luther who just wants to Hindu-s you to vote another way in the Senate". Eventually they figured out a wafer Leia to communion-cate that the kids needed a body-god. This led them to Sikh out Winter, who came with the recommendation: "no kidnapper will ever get pastor".
What else? Luke trains under a clone of Emperor Pulpit-een. Leia is like, "bish, open your eyes, dude's dark" but Luke justifies it with "well, there's some things vatican teach me". Eventually after Leia asks "how could you Judas to us", Luke snaps out of it and decides he's having nun of Palpatine's evil deeds. He con-vent his anger somewhere else. He comes back to the light side and everyone's pretty willing to ex-schism for everything he did. Anyway, I'm really sad that the books aren't canon anymore. I know there are a lot of ram, a danting number, but I hope I have Eided you in appreciating them.
---